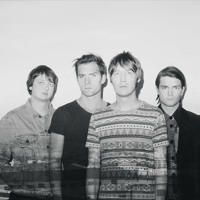 En kestä miten hyvältä kuulostaa tämä oman maan mansikan
The Casbahin Flowers
. On se repeat-nappula hyvä varsinkin tässä tapauksessa.
(Tämä on jo aika vanhahko biisi, mutta eihän tämä viikon kuumimmat tulokkaat-blogi olekaan ja ehkä jotkut biisit ovat syntyneet klassikoiksi)
Kun pyöräillessäni kuulin tämän biisin eräältä soittolistalta, niin mietin, että kenenköhän brittipopparin biisi tämä on. Kuulostaa himpun verran Oasikselta, mutta ei mulla muistaakseni Oasista tässä ole eikä muutenkaan Oasista kyllä ole. Siis mitä tää on, kuulostaa niin hyvältä, ja jatkoin pyöräilemistä. Hieraisin silmiäni kun myöhemmin tajusin että niin juu, tämä suomalainen The Casbah. Lähes autenttista brittipoppia, jossa kuuluu muutama eri vuosikymmen, ja taatusti pääsee brittipoppi-fiilikselle.
Harmittaa kyllä vähän, että en ollut
taannoisella keikalla Teerenpelissä
(!), missä pojat eivät kehdanneet edes pyytää lipusta hintaa. Mutta täytyy seurata kaupungin keikkakalentereita vähän uudella silmällä nyt.
Flowers on viime vuonna ilmestyneeltä All Eyes Open-EP:ltä, ja lisää
The Casbahia löytyy
täältä
ja myös
Myspacesta
.
Ja Spotifysta löytyy myös pari biisiä, sekä 12 biisin Tribute To The Clash-levy! Rock The Casbah!